c.r.e.t.a. rome: Residency Exhibition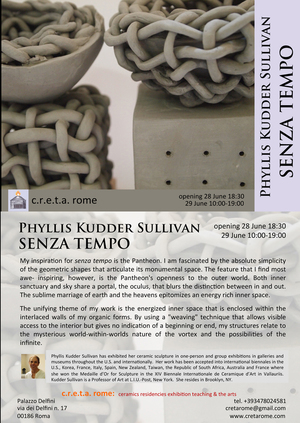 Phyllis Kudder Sullivan - Senza Tempo

28 June - 29 June 2014
---
Workshop: C.R.E.T.A. - Rome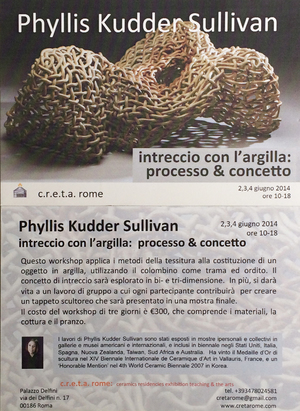 Interlacing with Clay: Process and Concept

2 June - 4 June 2014

c.r.e.t.a. - Rome, Italy

(Ceramics, Residencies, Exhibitions, Teaching and the Arts)

This is a hands-on workshop that applies "weaving" methods to the construction of clay baskets. Flattened or round clay coils will be overlapped, braided or interlaced into open weave containers. In addition to individual creations, the concept of interlacing will be explored in a group project that focuses on the idea of connectedness that occurs when disparate "threads" are integrated, or woven, into a single tapestry.
---
Cavin-Morris Gallery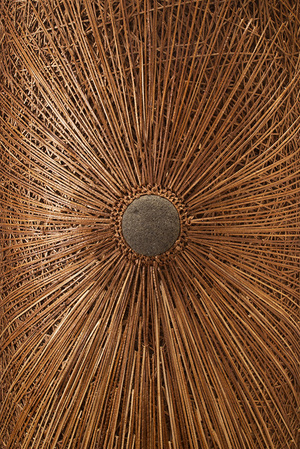 Elementals: Women Sculpting Animism
November 1 to December 13, 2014
Cavin-Morris Gallery
210 Eleventh Ave, Suite 201, New York, NY
Cavin-Morris is pleased to present an exhibition of living women artists working with ancient concepts and materials in a completely contemporary way.
This exhibition expands on the idea of these artworks being part of a language that expresses the animist essence of life. Animism is a belief in the souls on non-human entities. It is spiritual rather than religious, intuitive rather than empirical. There is a wide range of work in the exhibition from the intellectual intricacies of Phyllis Sullivan's force webs to the stark almost Neolithic but intensely worked roughness of Sarah Purvey's urns…...
---
Cavin-Morris Gallery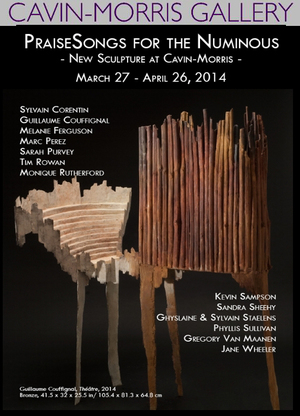 PraiseSongs for the Numinous - New Sculpture at Cavin-Morris: Selected gallery artists
March 27 to April 26, 2014
Cavin-Morris Gallery
210 Eleventh Ave, Suite 201, New York, NY 10001