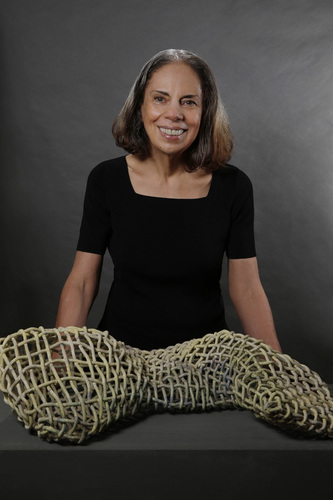 Bio
Phyllis Kudder Sullivan has exhibited her ceramic sculpture in one-person and group exhibitions in galleries and museums throughout the U.S. and internationally. Her work has been accepted into international biennales in the U.S., Italy, Spain, New Zealand, Taiwan, the Republic of South Africa and Australia. She won the Medaille d'Or for Sculpture in the XIV Biennale Internationale de Ceramique d'Art in Vallauris, France, and was awarded an Honorable Mention in the 4th World Ceramic Biennale 2007 in Korea. Her installation, Blue Partita II, exhibited at The Clay Studio's Reed Smith Gallery in Philadelphia, received the Trustees' Award for Scholarly Achievement from the Board of Trustees at Long Island University.
Kudder Sullivan has been the recipient of artist-in-residence grants in Japan, Turkey, Spain and China, as well as, the U.S. Her work has been reviewed by The New York Times and has appeared in numerous articles and books, most recently, 500 Ceramic Sculptures, by Glen Brown, Ph.D., and the cover article in Keramiek, a Belgium ceramics magazine.
Kudder Sullivan received her M.F.A. from L.I.U. where she studied with Bauhaus-trained, ceramic artist, Rose Krebs. Currently, she serves on the Board of Trustees for the Watershed Center for the Ceramic Arts and is a Professor of Art at L.I.U.-C.W. Post Campus, New York. She resides in Brooklyn, NY.